Solid,reliable technology coupled with innovative solutions ensures and increases your company's ability to add value.
KS-09D – the fully automatic Wire Cutting and Stripping Machine meets the criteria with solid, powerful technol­ogy.
All system components are designed for top quality. The processes are perfectly coordinated.
Auto knife sensor for stripping blade set-up, which made the adjustment easy and convenient.
With a simple-button press, discharge rollers can be open and close quickly, very handy. Two sets of rollers for highly accurate feeding and stripping effect.
Reduced maintenance costs thanks to the unique approach to wearing parts. With its high processing speed, KS-09D achieves the best unit cost performance in its class.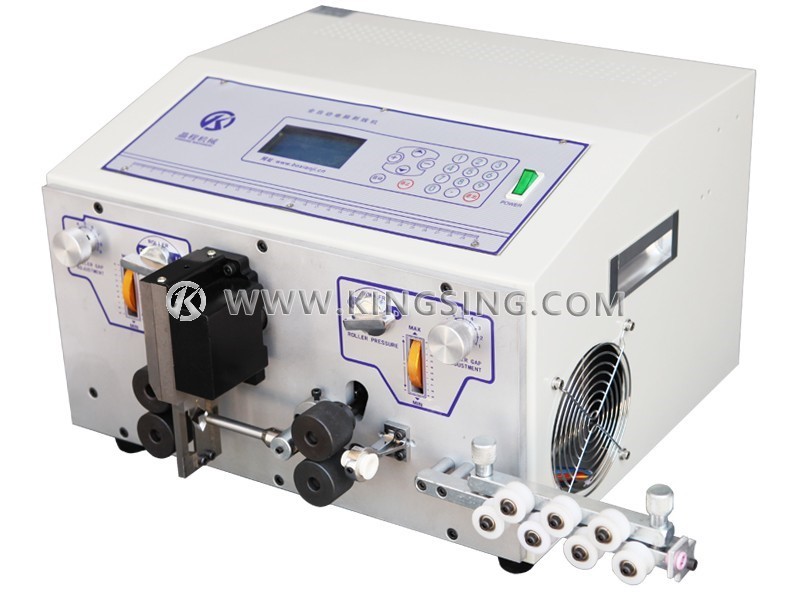 Available Core Cross-Section Range: 0.1 - 8.0mm² (AWG9 ~ AWG32)
Max. Conduit Diameter: φ8mm
Cutting Length: 5 ~ 9999mm
Stripping Length: Head 0~35mm, End 0~15mm
Memory Function: Max. 99 group of programs
Max. Middle Stripping Section: 11
Stripping Accuracy:± (0.002mm× Stripping Length)
Cutting Accuracy:± (0.002mm× Cutting Length)
Speed: 3000~8000pcs/hour
Drive Mode: 4-wheel drive
Display: LCD display with English menu
Blade Material: Hard tungsten steel
Memory Function: Max. 99 group of programs
Power Rating: 220W
Power Supply: 220V/50Hz 110V/60Hz
Net Weight: 35Kg
Dimension: 390 × 350 × 255mm