Ultrasonic Belt Cutting Machine is equipped with imported large-power rating and high-efficiencytransducer which not only make cutting speed faster and leaves cutting section more exquisite that it has no burn-out mark and no silk scattering issue.

Touching screen controlling system is beneficial to operate in a simple way.

Cutting mark can be precisely positioned by photoelectric sensor.

Thanks to unique design of cutter unit, wide range of cutter molds are available to be installed in this machine, such as right angle, rounded angle, tail and etc.

Angle shifting function: just input length, width, angle and other parameters, this machine is able to cut automatically various shapes, such as Rhombus, parallelogram, pagoda and etc.

Breakdown Self-checking: Once cutter holder, lack of material, color sensor and cutter shifting holder mal function, relevant alarms will be automatically displayed in the screen in order to find and repair in time.

Automatic stop function: Once material is used up, the system will stop automatically.

Memory function: All current parameters set in system can be saved before power off this machine.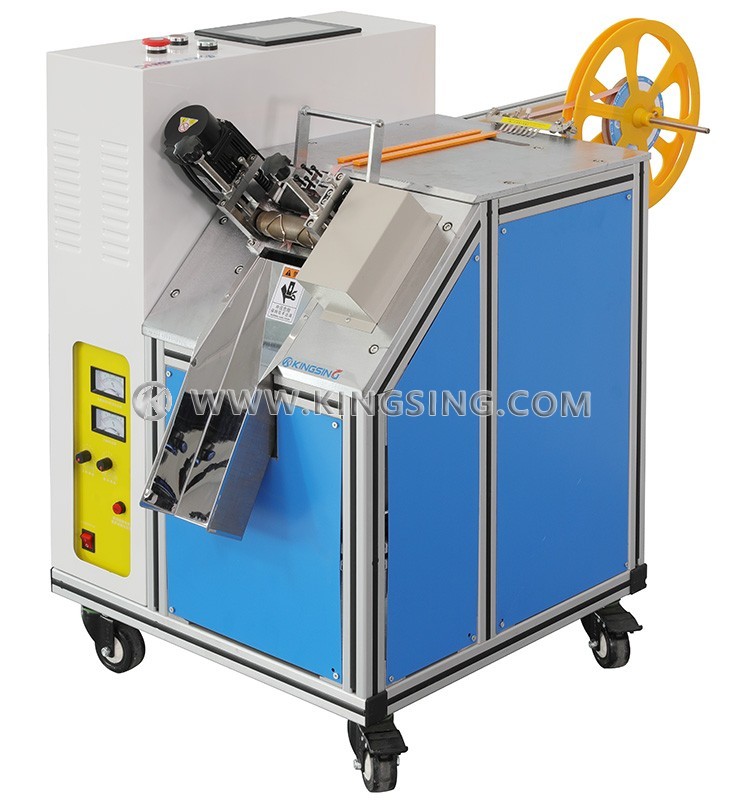 Applicable Material:Ribbon, Belt, Label
Cutting Shape: Rhombus, parallelogram, pagoda (Optional)
Cutting Width:Max. 110mm
Cutting Length:100-9999mm
Dimension:1200*600*950mm
Cutting Speed: 0-800mm/s
Cutter mold: Customized
Power Rating:3000W
Power Supply:AC 220V/50HZ
Net Weight:97KG
Note: Conforms to the relevant CE directives on machine safety and electromagnetic compatibility.