KS-W608 supports max. 200 places middle stripping, stripping position can be set freely in the program. This middle stripping machine has essential difference than other machines in the market.
KS-W608 adopts special middle stripping mode to remove the insulation on the wire, the middle stripping place has no limit, and of high accuracy.
This machine also can be used as general wire cutting and stripping machine after removing the middle stripping mode. It is able to process Max. 10mm2 BVR multi-strands wires.

KS-W608 can work with conveyer belt while process long wires (if the cutting length is longer than 0.5 meter, conveyer belt is suggested). Conveyer belt is designed to save wire collecting time and prevent wire knot. It will largely improve working efficiency.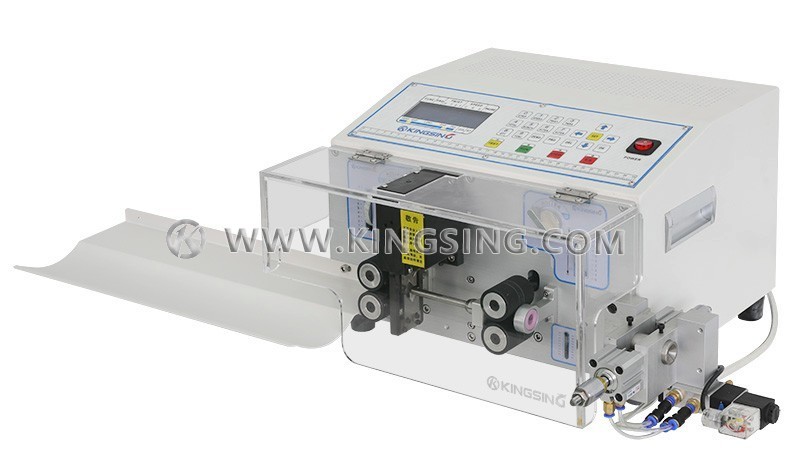 Available Wire Size: 0.1 ~ 10.0mm²(AWG30 ~ AWG7)
Max. Conduit Diameter: Φ10.0mm
Cutting Length: 0.1 ~ 100000mm
Stripping Length: Head 0~35mm, End 0~35mm
Max. Middle Stripping Section: 200 places
Memory Function: Max. 100 group of programs
Stripping Accuracy:± (0.002mm× Stripping Length)
Cutting Accuracy:± (0.002mm× Cutting Length)
Speed: 5000~8000pcs/hour
Drive Mode: 4-wheel drive
Display: LCD display with English menu
Blade Material: Hard tungsten steel
Power Rating: 430W
Power Supply: 220V/50Hz 110V/60Hz
Net Weight: 28Kg
Dimension: 400 x 410 x280mm