This is a long wire type four-wheel drive wire stripping machine. This machine is specially designed for processing long wires. It is equipped with a 1.4-meter-long conveyor belt (the length can be customized). When processing long wires, the wires can be placed straight and neatly into the receiving tray. Wire feeding wheel can choose rubber wheel or iron wheel, which is suitable for processing various electronic wires and sheathed wires.

The program is powerful and supports functions such as full stripping, half stripping, and middle stripping. With the program memory function, the processing parameters of different wires can be saved in different program numbers, and the corresponding processing parameters can be called out with one key when switching wires.

The program interface is intuitive and easy to understand. Parameters such as cutting wire length, stripping length, feed depth, retraction, and output can be freely set in the program. Functions such as long wire program, ultra-short wire program, middle stripping program, and sheath wire program can be switched at will, and one machine supports many different processing methods, which is very versatile.

Support non-standard customization, our company has strong research and development capabilities, and can customize corresponding functions according to customer needs. For example, an inkjet printer or a wire number hot stamping machine can be added to realize coding while stripping wires. Blades and conduits can be customized to process special wires such as flat sheathed wires and double wires; a safety shield can also be selected, and the machine will automatically alarm and stop when the safety shield is opened.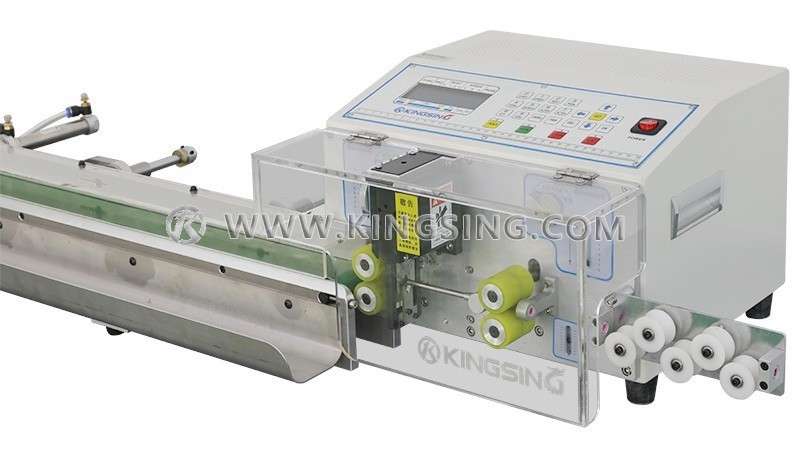 Applicable wire core area: 0.1 ~ 10.0mm2 (AWG28~7)
Maximum catheter diameter: Φ10.0mm
Cutting length range: 0~100m
Cutting length accuracy: ±0.002×L (L means cutting length)
Stripping length range: wire head 0~120mm, wire tail 0~35mm
Minimum glue length: 35mm
Program memory function: up to 100 groups of programs can be saved
Working voltage: 220V/50Hz
Rated power: 430W
Air pressure: 0.4~0.6Mpa
Net weight: 30kg
Dimensions: 400x410x280mm