This Ultra-short Wire Cutting & Stripping Machine KS-W604C is specially designed for processing ultra-short wires.
The pulling clamp is used instead of the outlet rollers, thus greatly shortening the distance between the tail stripping mechanism and the cutter.

It can easily strip both ends of the total length of 15mm wire.
Its working principle is different from other stripping machines with ultra-short wire function, it is not achieved by pushing the wire insulation sheath to one side.
It can strip wire head and tail by the normal process, which has higher accuracy and stability. Unstripped parts of the wire insulation sheath will not loosen.

The machine is also suitable for processing long wires and has a wide range of applications.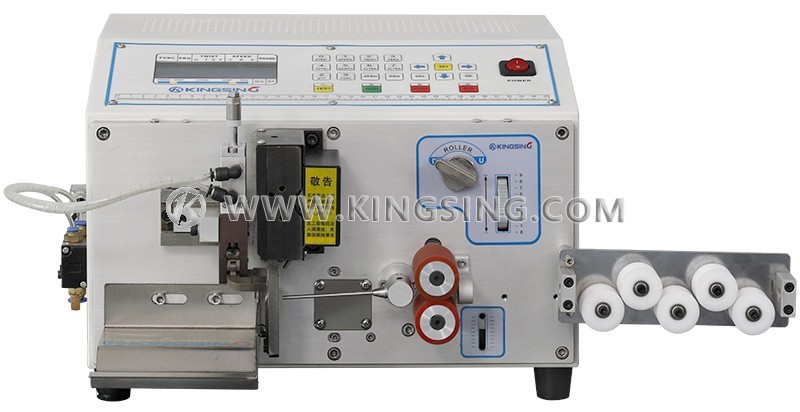 | | |
| --- | --- |
| Available Wire Size | 0.1~4mm² |
| Max. Conduit Diameter | Φ4mm |
| Cutting Length | Max. 100000mm |
| Stripping Accuracy | ±(0.002mm×Stripping Length) |
| Memory Function | Max.100 group of programs |
| Capacity | 5000~8000 pcs/hour |
| Insulation Remaining Length | Min. 15mm |
| Air Pressure | 0.5~0.8MPa |
| Motor Power | 0.43KW |
| Power Supply | 220V 50Hz/110V 60Hz |
| Net Weight | 25KG |
| Dimension | 400×410×280 mm |