This is an economical heat shrinkable tube heat tunnel, which is widely used in the wire harness processing industry. It adopts infrared heating tube for heating, the heating temperature can be adjusted freely!

The interior of the heating zone is filled with thermal insulation materials to isolate the internal and external temperatures, and there are heat reflective materials inside, so the heat shrinkable tube is heated evenly.


The machine is equipped with a conveyor belt, it allows almost unlimited length of heat shrink tubing, and the height of the inlet and outlet can be adjusted according to the size of your product. The operator only needs to throw the wires on the conveyor belt, then the wire can be sent to the heating area for heating, it helps to keep the operator away from the risk of scalding.

It is suitable for heating various types of heat-shrinkable tubes, such as: PE heat-shrinkable tubes, PVC heat-shrinkable tubes, double-walled heat-shrinkable tubes with glue, POF heat-shrinkable films, etc. This machine adopts the overall heating method, and the whole product will be heated during the process.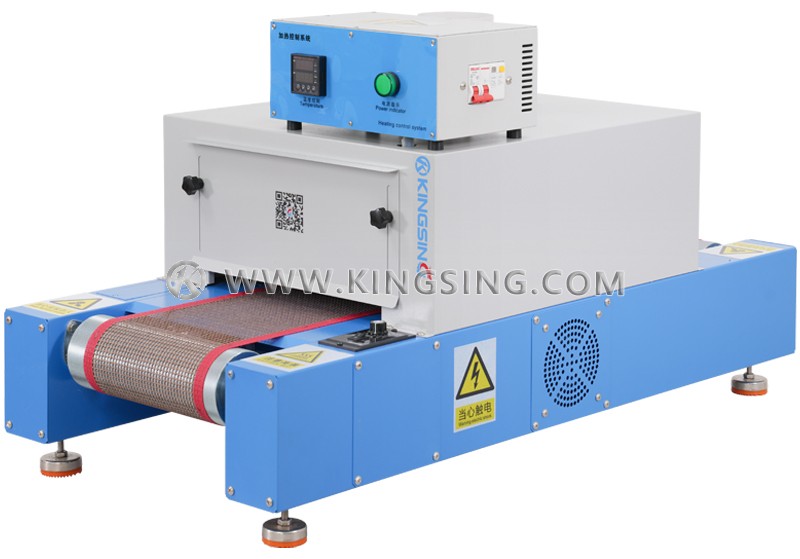 Max. Temperature: 200℃
Heating Area: 520×460mm
Conveyor Belt Width: 200mm
Conveyor Belt Speed: 0.5~3m/min
Max. Tube OD: 18mm
Max. Tube Length: 200mm
Power Rating: 1860W
Power Supply: 220V 50/60Hz
Net. Weight: 45kg

Dimension: 1130×580×630mm
Note: Conforms to the relevant CE directives on machine safety and electromagnetic compatibility.