The heavy-duty large cable cutting and stripping machine is able to process upto 300mm2 cable, it is perfect for processing the high voltage power cable, electric car charging cable, etc.

This machine is driven by servo motors to insure powerful feeding and high level of cutting and stripping accuracy. It also utilizes belt feeding design to avoid pressing marks on the cable.

The color touch screen provides a simple and enjoyable operation experience

With 4 movable rollers beside the machine feet, the machine can be moved easily and installed firmly on the ground. A protection cover is added to prevent accidental injury, the machine will stop automatically after turn on the detection function in the program.

KS-W621 can work independently or to be integrated in wire processing line due to multiple interfaces are reserved in the program.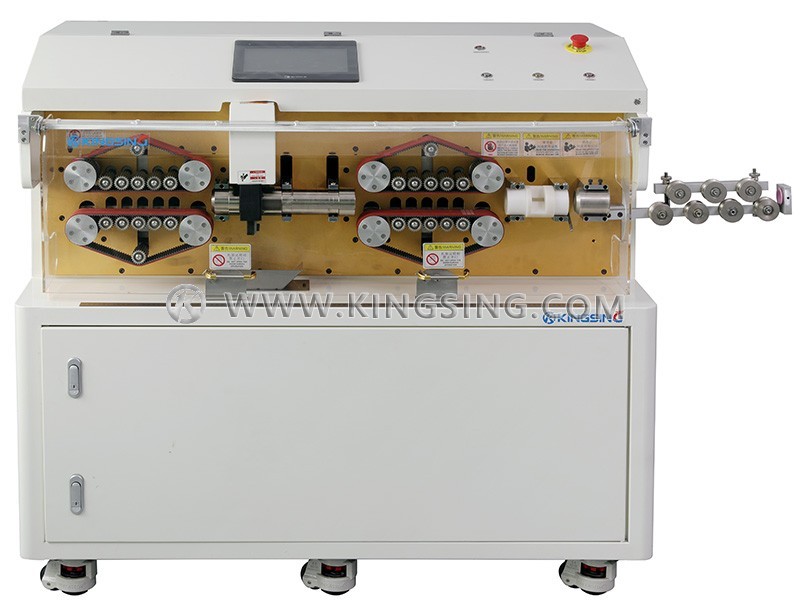 Available Wire Size: 6 - 300mm2
Guide Tube Diameter: 4 - 48mm
Cutting Length: 0 - 99999.99mm
Max. Stripping Length: Head 1000mm, Tail 350mm
Cutting Tolerance: ±(0.5+L*0.2%) (L=cutting length)
Air Pressure: 0.5-0.7Mpa
Power Supply: 220V 50/60Hz
Net. Weight: 350Kg
Dimension: 1300×600×1210mm