The smartest way to cut, strip and twist wires, Double Wire Cutting Stripping and Twisting Machine KS-09W belongs to the latest generation of multi- function automatic stripping machines. This model is compelling in the perfectly combination they provide. With the simple, flexible touch screen, affordable price and minimal material used during setup, KS-09W has quickly become a very popular type of stripping machines worldwide.
KS-09Wis designed to process 2 wires simultaneously, improved working efficiency by 2 times compared to ordinary ones.The feeding roller is divided in o 2 types, rubber rollers and steel rollers, depend to different wires the customer process. KS-09W has below advantages:
Extremely perfect effect of twisting wire conductor function makes this machine unique and competitive. KS-09W supports full stripping, half stripping and middle stripping, you may also choose cutting without any form of stripping function.

Support 3 layers stripping, each layer's stripping length can be set differently.

This stripper can store 99 sets of program in the touch screen, which you can retrieve anytime while needed.

Conduit jumping function allows the conduit to raise while stripping the wire end so that wire end stripping length can reach 70mm.

Through adjusting pulse value, the machine can reach extremely high precision cutting effect.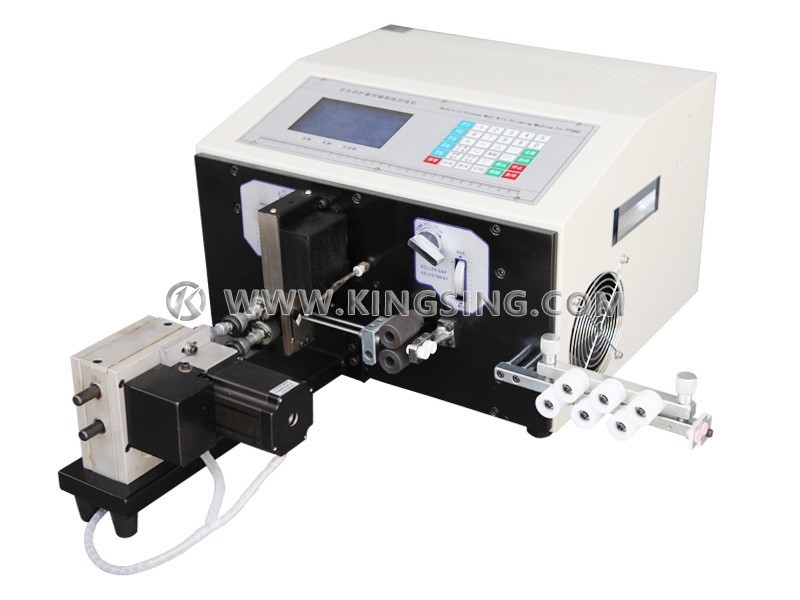 Available Wire Size: 0.1 ~ 2.5mm² (AWG ~ AWG)
Max. Wire Diameter: Φ4.5mm
Processing wires: 2 wires (at one time)
Cutting Length: 0 ~ 99999mm
Stripping Length: Wire Head 0 - 35mm, Wire Tail 0 - 70mm
Memory Function: Can store Max. 100 programs.
Middle Stripping: Max. 16 sections, each place can set stripping length separately!
Stripping Accuracy:± (0.002mm× Stripping Length)
Cutting Accuracy:± (0.002mm× Cutting Length)
Speed: 5000 ~ 8000pcs/hour
Display: LCD screen with English menu.
Drive Mode: 4-wheel drive
Blade Material: Hard tungsten steel
Power Rating: 300W
Power Supply: 220V/50Hz 110V/60Hz
Net Weight: 42Kg
Dimension: 450 × 365 × 265mm