This is a pneumatic hot blade wire stripping machine specially designed for the stripping of nylon braided wire. The blade of this machine is made of high temperature resistant material. The shape of the blade mouth can be customized according to the diameter of the wire. The temperature of the blade can be set by the temperature controller, up to 400°C. For special wire materials such as nylon braided wire, it is difficult to completely cut through the wire sheath if the wire is stripped directly with a cold blade. There are residues after stripping and it is easy to cause the braid to fall apart. Stripping with a hot blade can perfectly solve these problems. The specially customized blade mouth can be completely matched with the sheath, 360 degrees without dead angle, the braided layer is ironed and heat-sealed, the peeling is clean, and the edge of the braided layer is heat-sealed and will not fall apart.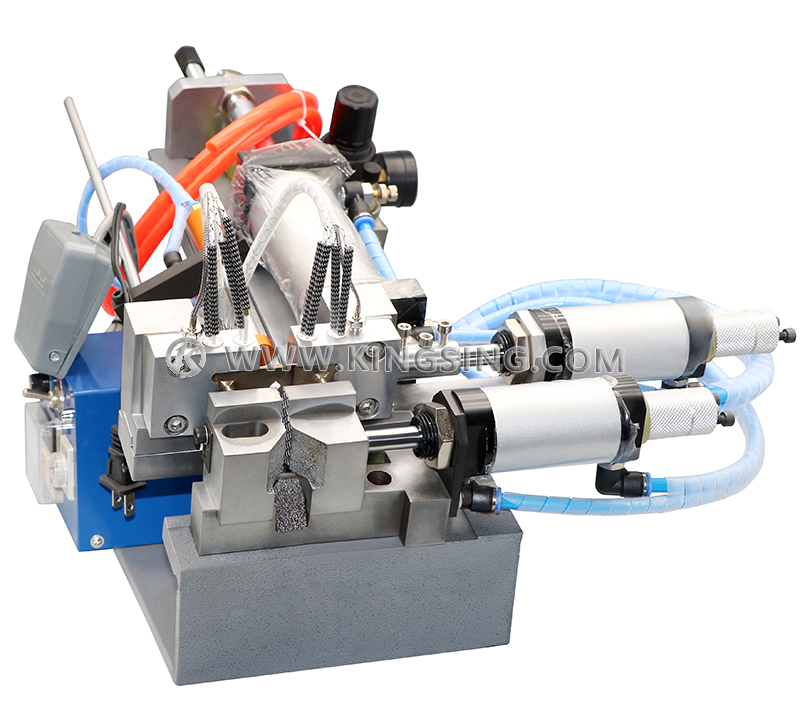 Applicable wire diameter: Φ0.3~10mm
Stripping length: 4~100mm
Temperature range: 0~400℃
Air pressure: 0.4~0.7Mpa
Working voltage: 220V 50Hz
Net weight: 24kg
Dimensions: 470*420*270mm
Note:
In the case of extremely hard, tough wires, processing may not be possible even within the cross section range. In case of doubt, KINGSING will be happy to provide processing samples of your wires.

Conforms to the relevant CE directives on machine safety and electromagnetic compatibility.