The most economic two-sided wire crimping machine KS-T505 has the advantage of fastset up, reliable performance and flexible application.
All required processingparameters such as wire feeding speed, cutting length, stripping length andcrimping depth can be set in and saved in the LCD touch screen.

The wires andterminals are handled carefully, gently during cutting, stripping and crimpingprocedure.

All the wearing parts are made of top quality, high precision anddurable.

With its fast processing speed and stable performance, plus a veryeconomic price, this machine is very popular among customers.

Both side-feeding die and straight-feeding die are available for processing, and the changeover between different die sets are easy and timesaving.
We provide customize service for customers with other brand of die such as JST, AMP,MOLEX, etc.
We can add convey belt for long wires to make sure neat wirecollecting.
The machine also has the feature of wire knotting detection as wellas error alarm function.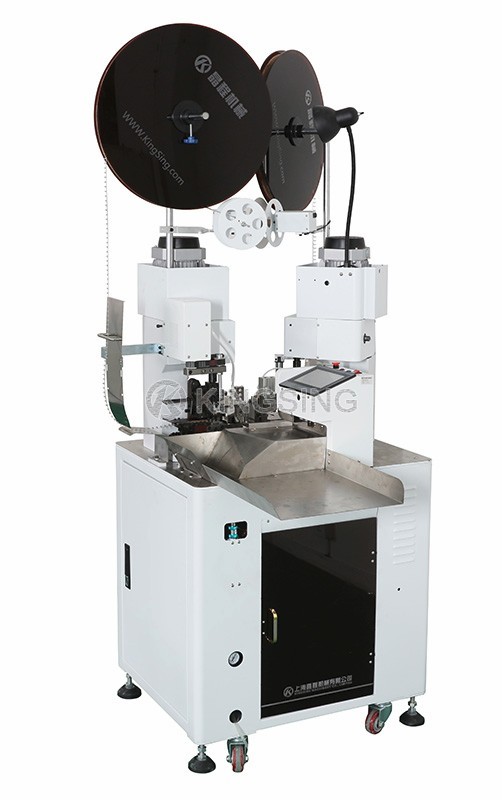 AvailableWire Gauge: 0.08 ~ 2.5mm2 (AWG13 ~ AWG28)
CuttingLength: 45mm ~ 1500mm (longer than 800mm, suggest to install aconveyor belt)
StrippingLength: 0 ~ 10mm
StrippingAccuracy:± (0.002mm×Stripping Length)
CuttingAccuracy:± (0.002mm× CuttingLength)
CrimpingForce: 2.0Ton
Stroke:30mm (40mm is customizable)
Display:5.7" Touch Screen
Speed:4000 ~ 5000 pcs/hour
AirPressure: 0.5MPa - 0.6MPa
PowerSupply: 220V/50Hz 110V/60Hz
PowerRating: 2500W
NetWeight: 320Kg
Dimension:800 × 830 × 1530 mm