This is an economical double-sided automatic crimping machine with excellent cost performance. It integrates functions such as wire cutting, wire stripping, and crimping terminals. It can crimp various cross-feed terminals, straight-feed terminals, and flag-shaped terminals. This machine adopts four-wheel wire feeding, which can prevent the wire from slipping, has strong power, and the length of cutting wire is accurate. The gap between the wire feeding wheels can be precisely adjusted by the handle. When processing long wires, you can also choose a conveyor belt, which can put the processed wires straight and neatly into the receiving tray.

The terminal machine is integrally formed of ductile iron, with strong rigidity and stable crimping height. It adopts a mold with a standard OTP bayonet with a stroke of 30mm, which supports quick mold replacement. One machine can process a variety of different products. When replacing wires and terminals, it is only necessary to replace the corresponding wire inlet conduit and crimping die. A terminal pressure monitor can be selected to monitor the pressure curve changes of each crimping process in real time, and automatically alarm and stop when the pressure is abnormal.

Color touch screen operation interface, parameter setting is intuitive and easy to understand, the program supports manual mode and automatic mode, the screen can be rotated to the front and back of the machine, it is very simple and convenient for engineers to debug the machine. The program memory function can save the processing parameters of different products in the database. When switching products, the corresponding processing parameters can be called out with one key, saving debugging time. This machine is compact in structure, small in floor space, affordable in price and powerful in function. The production efficiency of double-headed terminals is as high as 4500 pieces per hour. It is highly praised by customers for its excellent cost performance.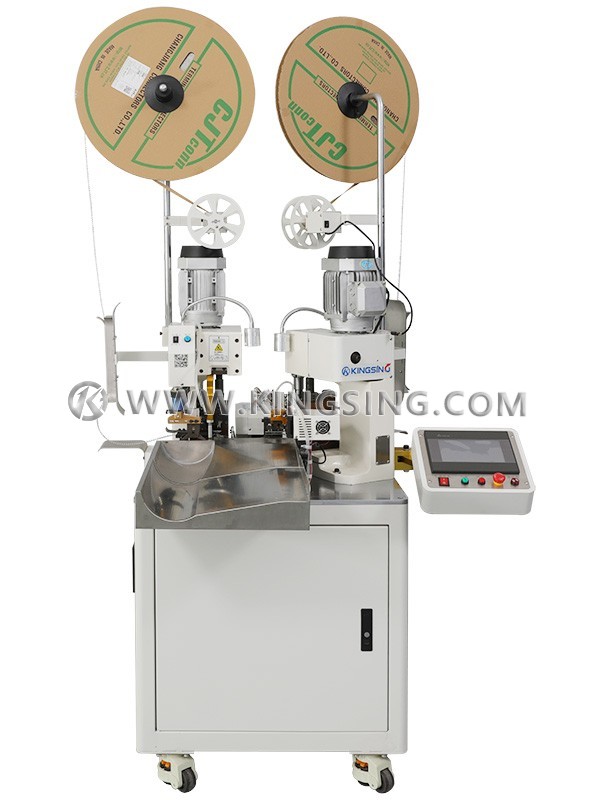 Applicable wire diameter: AWG28~16 (0.1~1.5mm2)
Applicable terminals: cross-feed terminal, direct-feed terminal, flag terminal
Cutting length: 40~9999mm (can be customized)
Stripping length: ≤10mm
Cutting tolerance: ±(0.5+L*2‰)mm L=cutting length
Maximum pressure: 2T
Crimp stroke: 30mm
Production efficiency: 4000~4500 pieces/hour
Operation interface: color touch screen
Air pressure: 0.5~0.7Mpa
Working voltage: 220V 50/60Hz
Net weight: 250kg
Dimensions: 620*730*1500mm
Optional configuration: long wire conveyor belt, pressure monitor, safety shield