Today'swire processing is characterized by small batch sizes and just-in-time production.
Converting machines from one application to the next has to bequick and easy.
The Kingisng fully automatic terminal crimping machines are theperfect answer to meeting this need.
Incorporating the latest technologies, KS-T503 is designed for processing double wire cutting stripping and crimping.
Reliableprocessing of wire cross sections ranging from 0.08 to 2.5 mm², 2 wires atone time, which improved working efficiency 1.5 times compared with normalmachine.
This machine has precise and outstanding quality, excellent value forthe money, and ultra-easy operations.

Both side-feeding die andstraight-feeding die are available for processing, and the changeover betweendifferent die sets are easy and timesaving.
We provide customize service forcustomers with other brand of die such as JST, AMP, MOLEX, etc.
With itscompetitive price, it has quickly become one of our most popular type of wirestripping machines.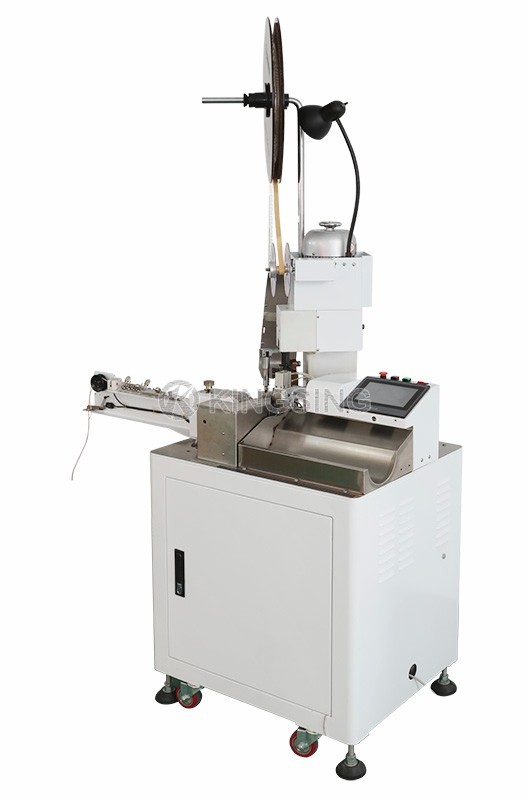 Available Wire Gauge: 0.08 ~ 2.5 mm2(AWG13 ~ AWG28)
CuttingLength: 20mm ~ 1500mm (longer than 800mm, suggest to install aconveyor belt)
StrippingLength: 0 ~ 12mm
StrippingAccuracy:± (0.002mm×Stripping Length)
CuttingAccuracy:± (0.002mm× CuttingLength)
CrimpingForce: 2.0Ton
Stroke:30mm (40mm is customizable)
Display:5.7" Touch Screen
Speed:4000 ~ 5000 pcs/hour
AirPressure: 0.5MPa - 0.6MPa
PowerSupply: 220V/50Hz 110V/60Hz
PowerRating: 750W
NetWeight: 210Kg
Dimension:700 × 600 × 1500 mm