This is a servo-type double-sided fully automatic crimping machine designed for crimping pre-insulated terminals with closed ends. It is also suitable for crimping various conventional cross-feed terminals, straight-feed terminals and flag-shaped terminals, and bulk terminals can be automatically fed by vibrating discs. This machine is equipped with a rotating twisting mechanism, which can twist the copper wires together after stripping, which can effectively prevent the copper wires from turning over when they are inserted into the inner hole of the terminal. The terminal crimping machine is controlled by a high-precision servo motor, and the crimping height can be set directly in the program. Supports 2-stage crimping function, the first stage presses the terminal slightly to allow the copper wire to penetrate accurately, and the second stage is then crimped in place.

This machine adopts a translation mechanism instead of the traditional rotation mechanism, and the wire is always kept straight during the processing process, which is beneficial to improve the positioning accuracy. The four-wheel wire feeding mechanism has strong power, which can prevent the wire from slipping, and the feeding length is accurate. The terminal machine is integrally formed of ductile iron, which has strong rigidity and stable crimping height. It can be equipped with a terminal pressure monitor to monitor the pressure curve changes of each crimping process in real time. When the pressure is abnormal, it will automatically alarm and stop.

Adopting the concept of flexible design, one machine can process a variety of different products, and only need to replace the corresponding fixture when replacing wires and terminals. The program memory function can save the processing parameters of different products in the database. When switching products, the corresponding processing parameters can be called out with one key, saving debugging time. In addition, it can also be equipped with a computer industrial control system that supports MES connection, with a built-in network interface, which can be connected to the MES system through a local area network, to realize remote reading or setting of parameters, remote production tasks and other functions.
| | |
| --- | --- |
| | |
| Bulk Type | Reel Type |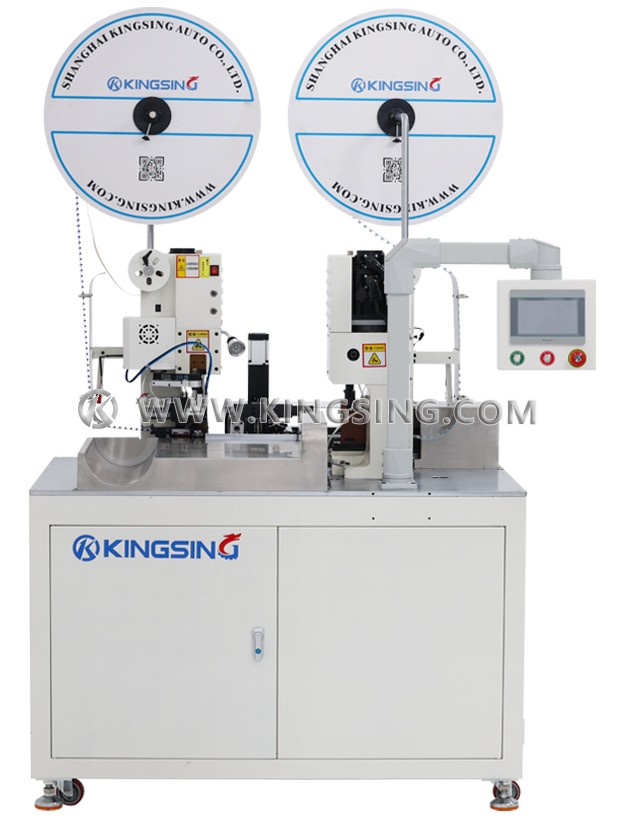 Applicable terminals: pre-insulated terminals, cross-feed terminals, straight-feed terminals, bulk terminals
Applicable wire diameter: 0.1~6mm2 (AWG28~10)
Cutting length: 65~5000mm
Stripping length: ≤15mm
Twisting method: rotating twisted wire
Cutting tolerance: ±(0.5+L*2‰)mm L=cutting length
Maximum pressure: 3T
Motor Type: Servo Motor
Crimp stroke: 30mm (40mm stroke can be customized)
Production efficiency: 1500~3000 pieces/hour
Operation interface: color touch screen
Air pressure: 0.5~0.7Mpa
Working voltage: 220V 50/60Hz
Net weight: 350kg
Dimensions: 960*900*1600mm