KS-T502 belongs to a basic model of Automatic Terminal Crimping Machine.
It processes wire cross section range from 0.08 to 2.5 mm2, larger wires can be customized.
Integrated function of two-sided wire cutting and stripping, one sided wire twisting and terminal crimping, this machine has a wide range of application. Withits affordable price and high performance, KS-T502 has brought a very considerable profit to its users.
All of its wearing parts are made of durable material, long service time.
Normally, the cutting blades are designed in V shape, but for special wires we can change it to U shape or according to customers' requirements.
Both side-feeding die and straight-feeding die are available for processing, and the changeover between different die sets is easy and time-saving.
We provide customize service for customers with other brand of die such as JST, AMP, MOLEX, etc. If you use loose terminals, a vibration plate will be added to this machine,allow automatic terminal feeding, all the processing is fully automatic, no need of manual work.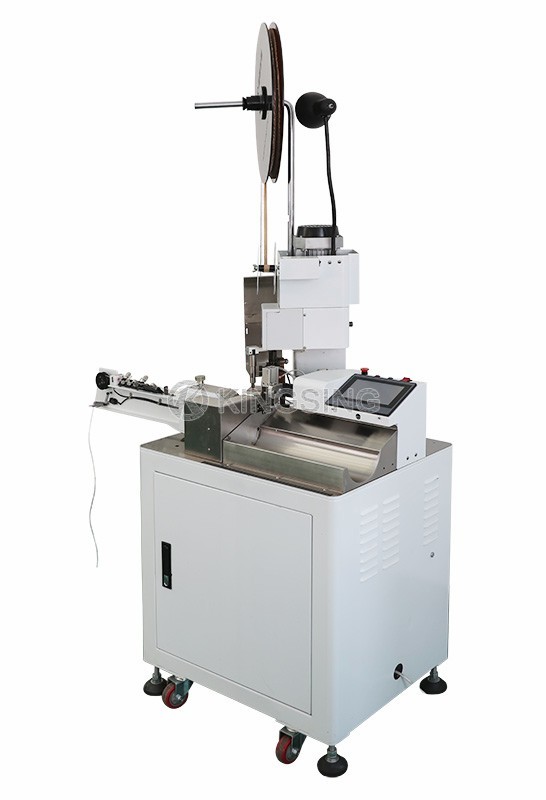 Available Wire Gauge: 0.08 ~ 2.5 mm2(AWG13 ~ AWG28)

CuttingLength: 20mm ~ 1500mm (longer than 800mm, suggest to install aconveyor belt)
StrippingLength: 0 ~ 12mm
StrippingAccuracy:± (0.002mm×Stripping Length)
CuttingAccuracy:± (0.002mm× CuttingLength)
CrimpingForce: 2.0Ton
Stroke:30mm (40mm is customizable)
Display:5.7" Touch Screen
Speed:4000 ~ 5000 pcs/hour
AirPressure: 0.5MPa - 0.6MPa
PowerSupply: 220V/50Hz 110V/60Hz
PowerRating: 750W
NetWeight: 210Kg
Dimension:700 × 600 × 1500 mm