KS-T504 is widely used to crimp double wires and it is able to split the wire beforecrimping.
Manual work takes time, and the quality cannot be guaranteed, this automatic crimping machine solved all the questions.
Wire feeding, cutting,stripping, splitting to terminal crimping, the whole producer is fullyautomatic.
All the settings will be done through easy operation on LCD touchscreen, the machine will store the parameters for future use and control allthe settings to work exactly as you set. All the wearing parts are made of topquality material, high precision and durable.
Both side-feedingdie and straight-feeding die are available for processing, and the changeoverbetween different die sets are easy and timesaving.
We provide customize service for customers with other brand of die such as JST, AMP, MOLEX, etc. Withits high productivity and stable performance, this machine will produce morevalue than its cost.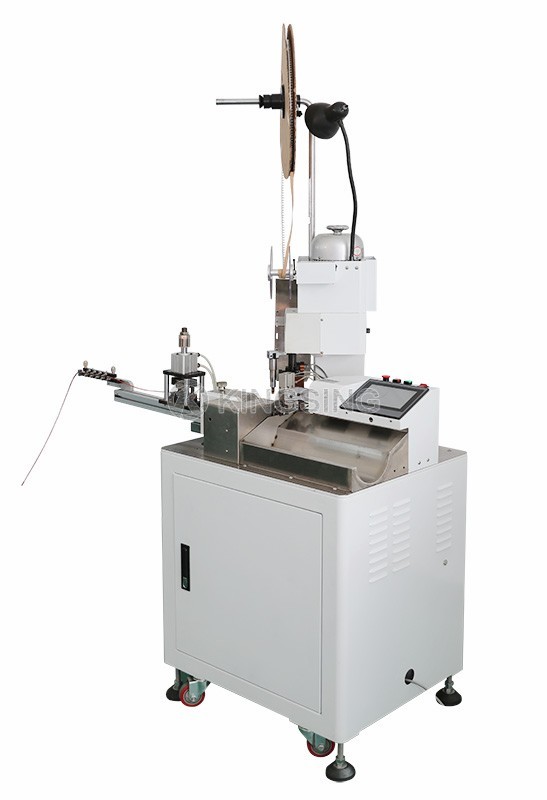 AvailableWire Gauge: 0.08 ~ 2.5 mm2 (AWG13 ~ AWG28)
CuttingLength: 20mm ~ 1500mm (longer than 800mm, suggest to install aconveyor belt)
StrippingLength: 0 ~ 12mm
StrippingAccuracy:± (0.002mm×Stripping Length)
CuttingAccuracy:± (0.002mm× CuttingLength)
CrimpingForce: 2.0Ton
Stroke:30mm (40mm is customizable)
Display:5.7" Touch Screen
Speed:3500 ~ 4000 pcs/hour
AirPressure: 0.5MPa - 0.6MPa
PowerSupply: 220V/50Hz 110V/60Hz
PowerRating: 750W
NetWeight: 210Kg
Dimension:700 × 600 × 1500 mm
Customized Function
1. Design a vibration plate forloose terminals, automatic feed terminals to crimping die.
2. Install a wire conveyor beltfor processing long wire (such as 2 meters long wire processing).
3. Add a pressure monitor systemto monitor each terminal's crimping force.
4. Other function the customersrequire to implement.
Sample: